In case you don't know, I read. A lot. And I am one of those people that actually enjoy reading books about pain and heartache and loss because I am a masochist but also because I think it helps put my own life, and my own struggles into perspective.
So without further ado, there is my top 5 list of books that will give you ALL the feels. Keep some tissues handy.
Eleanor and Park by Rainbow Rowell
I cannot rave about this book enough. I love it to death. I think it might be my favourite book of all time.
It's short and bitter and about two teens who sit next to each other on the school bus and fall in love. The reason I think it's special is because it reminds me of how exaggerated everything feels at that age; how amazing the good things feel and how utterly devastating the bad things feel. It makes you remember all of your firsts; the first time someone looked at you and really 'saw' you, the first time someone held your hand, the first time someone kissed you and you felt it right down to your toes.
Memorable lines:
"Holding Eleanor's hand was like holding a butterfly. Or a heartbeat. Like holding something complete, and completely alive."
"The me that's me right now is yours. Always."
The Fault in Our Stars by John Green
In my opinion, this book is worth the hype. Why? Because John Green managed to write a book about two teenagers who have cancer and he made the cancer feel secondary; an intimidating obstacle for sure, but always second to them, and to their friendship. Augustus Waters breathed life into Hazel and it was so so beautiful to read. I will never hear the word 'okay' in the same way again.
Memorable lines:
"Some people don't understand the promises they're making when they make them," I said.

"Right, of course. But you keep the promise anyway. That's what love is. Love is keeping the promise anyway."
"But I will say this: When the scientists of the future show up at my house with robot eyes and they tell me to try them on, I will tell the scientists to screw off, because I do not want to see a world without him."
It ends with Us by Coleen Hoover
Coleen Hoover is a Wonder Woman. I don't think she has it in her to write a bad book but this one in particular, really got to me. It is about a woman who has experienced domestic violence in her childhood home and hated her mother for 'allowing' it. Fast forward a few years and she is the same position. It shows you just how easily these sorts of situations can develop and how, even if you're strong, your limits can be eroded. What you might have thought was unacceptable a year ago can become palatable.
I loved this because it never felt simple and that is what made it real. Could you leave someone who was the best thing to every happen to you 99% of the time but also the worst 1% of the time?
Memorable line:
"Preventing your heart from forgiving someone you love is actually a hell of a lot harder than simply forgiving them."
All the Bright Places by Jennifer Niven
This book killed me. It was like a burning dagger to my heart that turned me into a bawling mess crying into my blanket at 1am. And that's saying something because I have never ever wept whilst reading before.
Theodore Finch isn't like other people. In fact he isn't like anyone else at all. He is apologetically himself  but he seems to feel everything. His mind races at 100mph and he is constantly struggling to keep up with his own thoughts to the point where it is overwhelming. From the first page you know that he wants to die, and he's about to do it when he realises that Violet is also standing on the belltower for the same reason. For someone so set on dying, it hit me right in the feels that he was able to talk her down.
In the months that follow, Theo still wants to die but Violet gives him a reason every day not to. In return he loves her fiercely.
I usually shy away from books like these because I think some authors try too hard to evoke emotions but I thought this was different. The ending felt both inevitable and surprising. Both beautiful and tragic. Both necessary and pointless.
Memorable line:
"You have been in every way all that anyone could be.… If anybody could have saved me it would have been you."
The above is actually an extract from Virginia Woolf's suicide note which is one of the most bittersweet things I have ever read.
If I stay by Gayle Foreman
The premise of this story is deceptively simple; Mia loses her entire family in a car crash and she is hanging on by a thread in intensive care. She has one choice to make; should she follow her family or should she stay?
This is not one of those books which is like oh love conquers all, she has her grandparents and her friends and her boyfriend, of course she'll stay. It is messy and it is honest and it is vulnerable. I really appreciated that it was not clear cut. The snippets of her life as she knew it versus her life in real time were interwoven so compellingly that it made Mia and her choice feel real.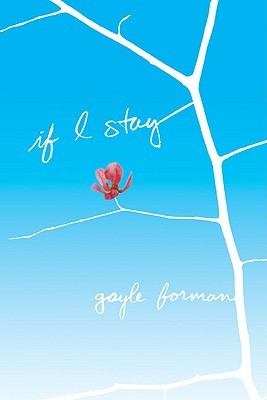 Memorable passage:
"It's okay,' he tells me. 'If you want to go. Everyone wants you to stay. I want you to stay more than I've ever wanted anything in my life.' His voice cracks with emotion. He stops, clears his throat, takes a breath, and continues. 'But that's what I want and I could see why it might not be what you want. So I just wanted to tell you that I understand if you go. It's okay if you have to leave us. It's okay if you want to stop fighting.'
Okay who is cutting onions god dammit?!
Over and Out!